Report Window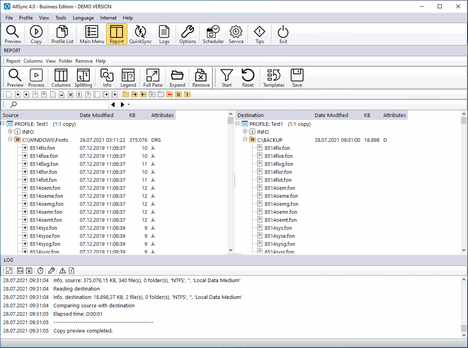 Copy Preview
When a copy preview is created, the contents of the
source and destination folders
are conveniently displayed in an easy-to-read manner in the two report windows. The
icons
in front of a folder or file show you directly which action AllSync will perform on that item. The actions shown of files and folders can be modified via the
context menu
. The command 'Process Copy Preview' enables all actions of the copy preview to be processed.
Copy Operation (Copying)
After a copy operation, all the actions performed are shown in the two report window panes, so you can examine them. This can be deactivated in the
General (Options)
(cf.
Profile Properties
).
Report Columns
The report features the following columns:
Source or Destination Folder
Modified Date
Creation Date
File Size
Attributes
Report Filter
The report filter enables you to quickly get a better picture of the files and folders that are not needed on the basis of their
icons
in the report. To do this, select all the file and folder buttons on the toolbar of the report filter to be shown in the report, followed by initiating filtering.
Report Legend
The
report legend
is a list of icons with a short description that can be displayed in the report window.
Options
You can make additional settings for the report window in AllSync's general
Options
:
Menu Bar
Report
Create Copy Preview of All Profiles in Report
Process Copy Preview
Delete Report
Print Source Report
Print Destination Report
Columns
Optimize Column Width
Show Column 'Modified Date'
Show Column 'Creation Date'
Show Column 'Last Accessed Date'
Show Column 'Attributes'
Show Column 'File Size'
Automatic File Size Formatting
View
Toggle Report Tiling
Show File Info Table
Maximize Report Window
Grid lines
Folder
Open All Profiles
Close All Profiles
Open All Subfolders
Close All Subfolders
Open All Folders Containing Actions
Open All Folders Containing Actions (Without Filtering)
Open All Folders Containing Copy Actions
Remove
Remove All Files Without Any Date Conflict
Remove All Profiles Without Any Entries Below Source and Destination
?
File Context Menu
The following commands can be accessed via the
context menu
of a file:
| Command | Description |
| --- | --- |
| No Action | Undoes the action performed to the file (keyboard shortcut: 1). |
| Copy | Sets the file action to 'Copy' (keyboard shortcut: 2). |
| Delete | Sets the file action to 'Delete' (keyboard shortcut: 3) |
| Filter | Sets the file action to 'Filter' (keyboard shortcut: 4). |
| File Conflict Action | Performs the File Conflict Action with this file (keyboard shortcut: 5). A copy is made, recognizable by the *.COPY extension. For more information, see Synchronization Conflicts. |
| Open | Causes a file to be opened using the application associated with it. |
| Open with | Enables you to select an application to open the file. |
| Compare | This causes the file to be opened along with the file on the other side using a specified program for the purpose of comparing the two files. See File Comparison. |
| Open Folder | Opens the file folder with the Windows Explorer. |
| Properties | Shows the properties of a file. |
| Windows Explorer Context Menu | This causes the Windows Explorer context menu for the selected file to be shown. |
| Copy to Clipboard | Enables the file path to be copied to the Windows Clipboard. |
| Add to Filter List | Enables either the name or the entire path of files to be added to the filter list. |
Folder Context Menu
The following commands can be accessed via the
context menu
of a folder:
| Command | Description |
| --- | --- |
| No Action | Undoes the action performed to the folder (keyboard shortcut: 1). |
| Copy | Sets the folder action to 'Copy' (keyboard shortcut: 2). |
| Delete | Sets the folder action to 'Delete' (keyboard shortcut: 3). |
| Filter | Sets the folder action to 'Filter' (keyboard shortcut: 4). |
| Copy all files in this folder | Sets the action to be performed to all the files in this folder to 'Copy' (keyboard shortcut: 8). |
| Copy all files and subfolders in this folder | Sets the action to be performed to all the files and subfolders in this folder to 'Copy' (keyboard shortcut: 9). |
| No action for any files in this folder | Undoes the action to be performed to all the files in this folder (keyboard shortcut: 6). |
| No action for all files and subfolders | Undoes the action to be performed to all the files and subfolders in this folder (keyboard shortcut: 7). |
| Expand/Collapse all subfolders | Expand or collapse all subfolders |
| Open | Opens the folder with the Windows Explorer. |
| Properties | Shows the properties of the folder. |
| Windows Explorer Context Menu | This causes the Windows Explorer context menu for the selected folder to be shown. |
| Copy to Clipboard | Enables the folder path to be copied to the Windows Clipboard. |
| Add to Filter List | Enables either the name or the entire path of the folder to be added to the filter list. |