Profile Properties
The profile properties comprise all the settings for a
copy operation
between two folders. Note that depending on your
product edition of AllSync
certain settings are not available.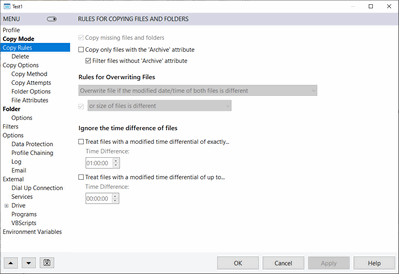 Menu
All the settings of the profile properties are divided into several groups which are shown at the left menu. Depending on your
product edition of AllSync
and the selected
copy mode
different groups are displayed at the menu.
Expert View
Below the left menu you can activate the
Expert view
option and display additional menu items. All menu items that are only shown in the expert view are marked with an asterisk (*) further down in the menu list.
Menu List