Profile Properties
The profile properties comprise all the settings for a
copy operation
between two folders. Note that depending on your
product edition of AllSync
certain settings are not available.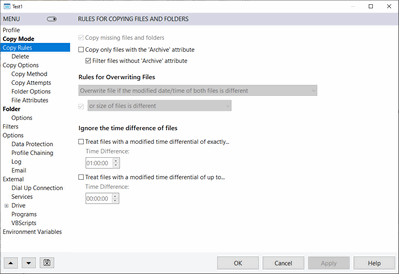 Menu
All the settings of the profile properties are divided into several groups which are shown at the left menu. Depending on your
product edition of AllSync
and the selected
copy mode
different groups are displayed at the menu. Below the left menu you can enable the
Expert View
option and gain access to additional groups.
Menu Items
* This menu item is not displayed in the menu unless
Expert View
has been enabled.